Capital Artworks is an
expert at entertaining guests young and old alike
at the parties celebrating this milestone event.
The engaging style of Mike Jenkins and his caricature artists at Capital Artworks
hold the attention of those waiting to be drawn as well as providing unique gifts for your guests
, which they'll cherish for years. They love to watch the creative process as the image comes alive on the easel – and to watch as the subject first gets to see the final product!
Each artist can draw 10-12 black & white or 8 color caricatures per hour, depending on your requirements. We're happy to discuss your options to make your event successful!
Capital Artworks can also work with you or your event planner
to create a unique logo featuring the Bar/Bat Mitzvah child, which can be
used on party invitations, a decorative banner, a signing board
for their guests to autograph, and more.
Email info@capitalartworks.com
for more information on how our caricature artists can help to make your Maryland, Northern Virginia or Washington DC Bar Mitzvahs or Bat Mitzvahs more special!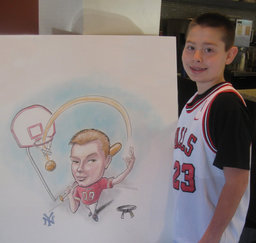 Bar Mitzvah Entertainment and Customized Signing Board or Logo for your event