Mike Jenkins was an award winning Editorial/Political Cartoonist for 25 years, starting at the student newspaper of his alma mater, the College of William and Mary. With the recent decline of the newspaper business, the Editorial Cartoonist is a severely endangered species. There are fewer than 70 full timers in the U.S. today, so he has branched out to create art and messages in many different forms.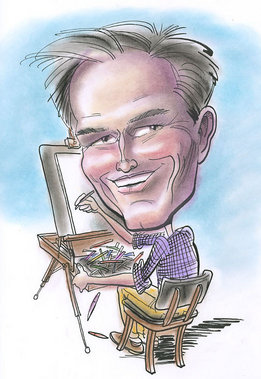 Drawing on his newspaper experience, Mike developed the unique ability to take often complex ideas and portray them graphically in a simple and quick to understand message. Whether it is a marketing message, political commentary, or simply taking what he knows about his subjects to create humorous, poignant or meaningful art, Mike is a master.
He started Capital Artworks to meet the demand for Entertainment Caricatures in the D.C. area. He found that due to the popularity of political cartoons, his association with other local caricaturists and political cartoonists, and the proximity of political and media interest groups in the Washington region, Capital Artworks has been successful in developing business in new areas. Capital Artworks is fast becoming the go-to source for innovative artwork, personalized gifts and entertaining art!