Capital Artworks can create a preprinted image, customized to your theme. We leave the face open, and will draw your guests' faces in that spot.
Do you want people drawn participating in your special event - Attending a Grand Opening for your business? Working with you at a hobby?
By preprinting an image – humorous, serious, or with a particular message – we can increase the volume of caricatures produced, offering more souvenirs and broader distribution of your message.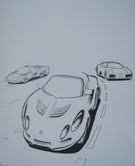 Capital Artworks used this Race Car picture so we could simply add the caricature of guests at a large Bar Mitzvah party. This enabled us to ensure that every guest could leave with a souvenir caricature from this child's special day.